"Nevertheless, many continued hoping that the epidemic would soon die out and they and their families be spared. Thus they felt under no obligation to make any change in their habits as yet."
The current coronavirus pandemic demonstrates in an alarming way how important it is to understand and prepare for the fight against infectious diseases. As this is an integral part of the LifeTime roadmap, the initiative counts among its members actors at the forefront in the research on COVID-19. In a series of interviews, which will be regularly published here, we want to share with you the thoughts and recommendations of leading experts from LifeTime.
We learn from today so we can be prepared for tomorrow!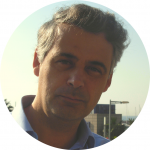 "It is important to invest in medicine and science"
Interview with Dr. Luis Serrano, Director of Centre for Genomic Regulation (CRG), Barcelona. CRG is a biomedical research institute with programmes on Bioinformatics and Genomics, Cell and Developmental Biology, Gene Regulation, Stem Cells, and Cancer and Systems Biology.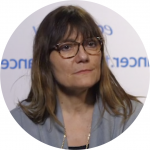 "COVID-19 is emerging as having clear sex and gender dimension"
Interview with Dr. Susanna Chiocca, Director of Viral control of cellular pathways and biology of tumorigenesis Unit, European Institute of Oncology, Milan
While preliminary sex-disaggregated data show that the proportion of COVID-19 cases in males and females is approximately equal, there is already a clear sex difference in mortality and disease aggressiveness (REF). Indeed, more men are dying perhaps because of sex-related immunological or hormonal differences, and/or gendered differences, such as higher smoking rate in men than in women in China.
However, data on smoking and prevalence or severity of the disease are still fragmented (REF). In support of a possible hormonal difference, sex-based differences were found in a murine model of SARS-CoV infection, the virus responsible for the 2002-2003 SARS epidemic. Male mice were more susceptible to SARS-CoV infection compared to age-matched females, most likely due to estrogen signaling protection of lethal viral infection on female mice (REF: doi:10.4049/jimmunol.1601896). 
Other aspects to consider are the risk of exposure of the different genders because of cultural and biological differences and social behaviors (handwashing, face-eye and other exposed body parts touching, general awareness of proper measures to take for protection, etc).  The percentage of people tested and the way the testing for viral presence is carried out may also differ among the genders. 
Not only in my group but in the whole department and hospital we are thinking of how to exploit our know-how for better viral testing, as well as towards the understanding of the pathogenesis of SARS-CoV2. We are currently working on various applications addressing many aspects involved in this disease. We are a cancer institute so, of course, since COVID-19 cancer patients are most likely at higher risk of incurring in more severe events, compared with patients without cancer, our hospital has devised ways to protect them and of course to isolate them from other patients.
COVID-19 is emerging as having clear sex and gender dimension. As in all disease outbreaks, it is of utmost importance to recognize the impact of the epidemics/ pandemics with also a sex and gender lens. For example, for the development of proper therapeutics, the sex and gender dimension must be taken into account, since the outcome of SARS-CoV2 infection may differ in the two sexes, as well as the sex differences associated with pharmacodynamic effects of possible drugs on the body and with pharmacokinetics (drug absorption, distribution, metabolism, and elimination). Importantly, any defined clinical trial should be designed to be absolutely equitable including both women and men, tracking as much as possible all those behaviours that might be gender-related (smoking and/ or the life-style habits).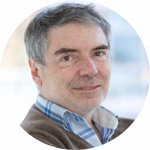 "The approaches initiated during an outbreak of a new virus should be pursued even if the epidemic goes away"
Interview with Félix A. Rey, head of Department of Virology, Institut Pasteur and director of research at French National Centre for Scientific Research (CNRS)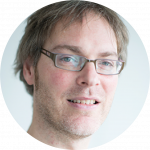 "Collaboration between countries and leading research institutes in Europe is the key"
Interview with Prof. Dr. Diether Lambrechts, Dept. of Human Genetics, KU Leuven, Group Leader, VIB-KU Leuven Center for Cancer Biology (CCB)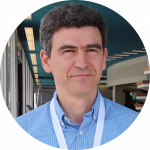 "Long-term medical research is crucial because it prepares us for the future"
Interview with Prof. Dr. Mihai Netea, head of the division of Experimental Medicine, Department of Internal Medicine, Nijmegen University Nijmegen Medical Center, the Netherlands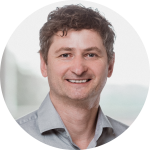 "Our teams started work on the virus early on"
Interview with Prof. Dr. Jörg Vogel, Head of Department RNA Biology of bacterial infections, Helmholtz Institute for RNA-based Infection Biology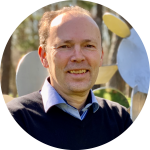 "We need to better understand how human beings and their immune system fight this virus"
Interview with Prof. Dr. Joachim Schultze, Director, Platform for Single Cell Genomics and Epigenomics German Center for Neurodegenerative Diseases (DZNE e.V.)